Frugal Friday: Trick or Cat Treat
Your cats probably love them and can't get enough of them. What am I talking about? Treats, I'm talking about cat treats. The varieties, shapes and flavors are endless. Every cat food manufacture has their own line of kitty snacks out. You could go for the beachside crunch or tempt them with cheesy middles. There are even treats containing catnip and grass along with purely organic treats. When it comes to treats, the possibilities are endless. However, what happens if you decide to splurge on your treasured little one and buy a bag of treats only to find out that he or she does not like them. Now what do you do? Or maybe you know which brand your kitty loves and you dish out every last penny you have to be sure that your kitty gets his or her snacks even if this means you go without a snack for yourself. Who, at one time or another, didn't sacrifice for their children? What is a kitty parent on a shoestring budget to do? Frugal Friday: Trick or Cat Treat.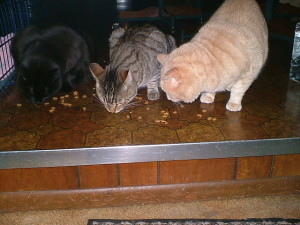 Once their favorite treat bag is empty, save the empty bag. Next, fill the empty bag up with cat food (a brand you know your cat will eat but has not had in a while). Now, next time your kitty is deserving of a treat (that's all the time right?) give the recently filled bag a little shake. Hopefully there is enough residue from their favorite snack left in the bag to flavor the cat food that you put in as a substitute. This trick usually works however, it will not work for long. Cats are intelligent creatures and eventually will discover that you are tricking them instead of treating them. Kitties are also forgiving so hopefully he or she will find some pleasure in a cat food that they have not had in a while and will not old it against you. Hopefully, (fingers crossed).