Frugal Friday: DIY Cat Drinking Fountain
Happy Friday the 13th! Don't be scared, we are here to save you some money with our Frugal Friday segment. Last week we told you how to make a litter box, now we are going to tell you how you can make your own cat drinking fountain. Frugal Friday: DIY cat drinking fountain.
Cats love moving water, plus it promotes them to drink more which keeps them healthy. But those pet drinking fountains are expensive! Instead of saving all of your hard earned money to purchase one for your kitty how about making your own for half or more of the cost of buying one at the pet store? You can make a simple fountain that is actually healthier and better than one you would purchase at the pet store. Pet store fountains are made from plastic. Some are ceramic and others are stainless steel but those varieties are really expensive. The problem with store bought ones is that they tend to have a lot of crevices that have to be cleaned regularly or else bacteria will build up. So not only are they expensive but they are hard to clean.
Here is how you can cheaply make your very own cat drinking fountain.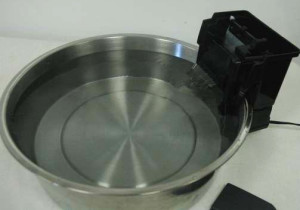 Get a ceramic or stainless steel bowl. You can use plastic but these would be easier to clean.
Purchase a power filter for a small aquarium. A filter for a 10 gallon aquarium would be good.
You might need a couple of other items such as a piece of foam to put between the bowl and the filter.
Affix the filter to the bowl then fill with water.
That is all that you really need in a cat drinking fountain. The moving water that is filtered by the activated carbon that is contained in the fish filter. This so happens to be the same kind of filter that are found in store bought pet drinking fountains.