Ultimate Source For Saving You Money On Your Cat
Did you know that the average person spends between $700 to $900 dollars a year on their cat? The more cats you have and the more you "spoil" them your money amount could be much higher. Of course, you tell any cat parent/owner this and they will most likely reply with, "My kitty is worth every penny". This is true, cats are priceless and worth every penny and more when it comes to giving them the ideal "cat life". But wouldn't you want to save money on those regular everyday items that you need for your cat? If you can have extra money left over you can finally afford to splurge and spoil them with that fancy cat playground or high end catnip? We have the ultimate source for saving you money on your cat.
Introducing, Frugal Feline: Hidden Everyday Money Savers for your CAT. This ebook was written to save you money on your cat. Set up in a convenient to follow format, Frugal Feline contains 50 easy to use tips on saving you money when it comes to caring for your cat. Whether it be tips on how to save money on your kitty's food or simple strategies for stretching the litter in the litter box this ebook has you covered. You will not find any fluff or filler in this ebook because every page has a different money saving tip. Your grand total in money saving tips is 50!
Wouldn't you want to know: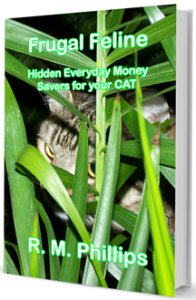 How to keep your litter box fresh smelling in between cleanings

Why you should toss your air freshen and grab a plate of lemons

How to make a cheap litter box that works

Why buying more is cheaper

How to provide your kitty with a endless supply of catnip


How to bring a old toy back to life
Frugal Feline: Hidden Everyday Money Savers for your CAT will help you to save money on those everyday kitty items allowing you to get whatever your cat wants to fulfill their royal lifestyle. For only $4.99, (that's 10 cents a tip) you can download your very own copy of Frugal Feline. With Christmas around the corner, now is the time to start saving money on those everyday items for your kitty so you can afford to buy them something really nice this holiday season.