How Much Money Do You Spend On Your Cat?
Gas prices might be going down but the cost of living is not going anywhere but up. Everything across the board from housing to food to merchandise is going up in price. Seems the only thing that does not go up is your income. Now a days it does not matter if you have a somewhat decent paying job, holding down two jobs, or collecting some sort of benefits there never seems to be enough money left over. With the price of everything (except your income) going up, it might be time for you to consider, if you have not done so already, creating a budget. The purpose of a budget is to find out what expenses you can "cut" so that you have some money left over. Budgeting allows you to see where your money is going and how much is being spent. What about your cat? Do you know how much money you spend on your cat?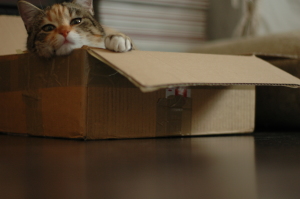 Did you know that the average cat owner spends anywhere from $700 to $900 dollars per year on their cat? According to the American Pet Products Association (APPA), it is estimated that the average American will spend a whooping $1,271 on their cat this year alone!
The American Society for the Prevention of Cruelty to Animals (ASPCA), released a slightly reduced amount that a cat owner might spend in a year. ASPCA says that a cat owner will spend around $1,035 in their first year, this includes the initial capital costs such as medical expenses and the purchasing of basic supplies like a litter pan and scratching post.
Let's look at a basic cost break down that the average cat owner spends per year on their cat. This annual cost list is according to the ASPCA.
Food = $115
Medical = $160
Litter = $165
Toys/Treats = $25
Health insurance = $175
Misc. = $30
Annual cost that you will be paying for one cat per year is $670.
Granted, you might not be spending any money on a health insurance plan for you cat however, you are probably making up for that by spending more in the cat food or kitty toy department. Cats deserve to be treated well therefore, don't skimp on their needs. However, being informed on how much you are spending on your cat can allow you to make a better budget, hence allowing you to allocate the necessary funds to support (and spoil) your cat.